Doctor Nerve / PAK / Samla Mammas Manna
Knitting Factory Tap Bar, August 28, 2003
Review by Phil Zampino The newly remodeled Tap Bar at the Knitting Factory played host to a triple bill of Doctor Nerve, PAK, and Samla Mammas Manna with Yoshida Tatsuya of Ruins for a late evening weeknight show.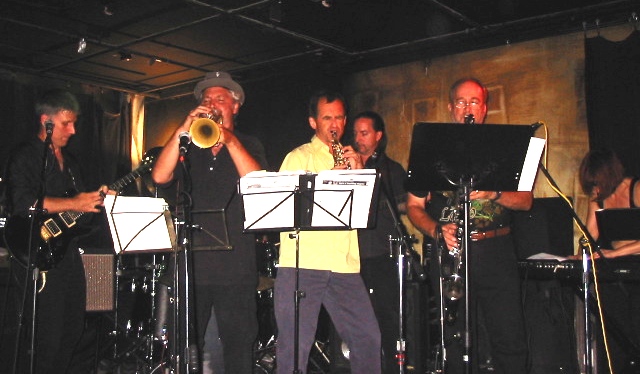 First up were Doctor Nerve, Nick Didkovsky's long standing skronky compositional rock band. With a front line of trumpet, soprano sax and bass clarinet, rhythm section of bass, drum and keyboards, and Didkovsky on guitar this is a band capable of a big blast. And blast they did, in syncopated rhythms with tight start/stop maneuvers, playing a good section of the Doctor Nerve book. The set was marred by sound problems including one speaker column cutting out intermittently during the show, and a room that smeared the sound of the horns into a wash of noise. Still Didkovsky jumped and danced through his compositions, and on one number came up front in a sort of conduction, leading his players with hand signals to bringing groups of players together and out. The pieces were interesting if a bit monotonous in their too-consistent driving complexity. Only a piece criticizing the Iraq terrorist playing card deck, throwing individual cards into the crowd while screaming that there are beautiful people on each card, broke the mold of the set.


Next up was PAK, Ron Anderson's intensive rock trio. Anderson is to be thanked for bringing Samla Mammas over from Sweden, and playing the triple bill seemed to put Anderson in a great mood. The trio played with fierce energy, Anderson and bassist Jesse Krakow cutting off each other and dancing around the stage in high rock form, even putting their foreheads together at one point, and boyishly kicking and pushing each other at another. Anderson is an impressive technician who never loses sight of the intricate melodic aspects of his solos. Krakow is also a monster on the bass, which makes up for the occasional grandstanding positions he puts himself in while playing. The set ended by morphing a jam into King Crimson's "21st Centerury Schizoid Man," Anderson picking up his pocket trumpet for a succinct and serious solo.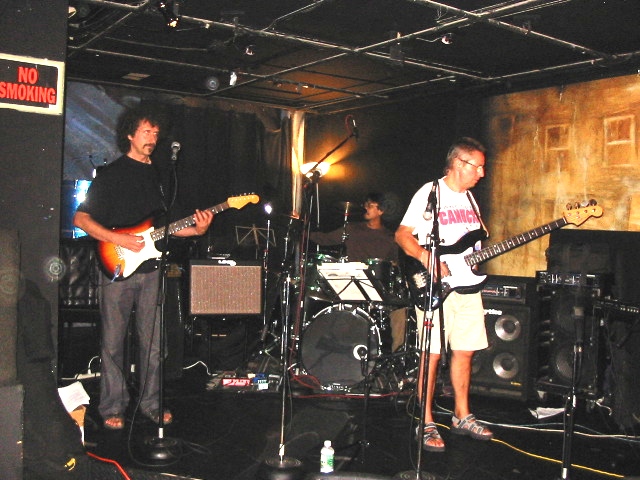 Ending the night were Samla Mammas Manna in a rare New York performance. Starting after midnight the band entered their first piece joking about how noisy New York is, and how it was past their bedtime. You'd never know it from the incredible energy they displayed, or the humor they shared. Samla Mammas has been around in various form for over thirty years, and keyboardist Lars Hollmer, the original founder of the band, has also had many solo projects. Their finesse and profound technical abilities were as impressive as they were melodically joyful. The addition of Yoshida Tatsuya from Ruins further pushed the band, as Yoshida cut up and augmented their playing with a mix of fire and restraint. Guitarist Coste Apetrea in particular was amazing to watch, utilizing almost no pedals and yet drawing an impressive array of sound while gliding at incredible speed through complicated melodic runs. Bassist Lars Krantz should not be left out as his ever smiling face belied the great harmonic variations he anchored the pieces with, often looking as though he was completely mesmerized by the music. The only band with an encore, Samla Mammas showed that complexity can be mated with melody to make something joyful and powerful, an incredible mix. Pak Website: http://www.ronanderson-molecules.com



Back to the Exposť Main Page